Introduction
Sports Medicine SEO (Search Engine Optimization) is a vital tool in today's highly competitive world of sports, where athletes and enthusiasts constantly aim for peak performance and swift recovery from injuries. By optimizing your website with sports medicine SEO strategies, you can enhance its visibility and reach in the digital realm. The field of sports medicine plays a crucial role in helping individuals achieve their goals and overcome physical challenges. However, without proper internet visibility, even the most talented sports medicine practitioners may struggle to connect with those in need. In this comprehensive guide, we will explore the strategies and techniques necessary to outrank competitors. Elevate your sports medicine website on Google's search results, specifically focusing on sports medicine SEO.
1. Understanding the Importance of Sports Medicine SEO
Sports Medicine SEO is the art and science of optimizing your website to appear prominently in search engine results., when potential patients or clients are seeking sports medicine-related information or services. It involves implementing various on-page and off-page optimization techniques. These increase your website's visibility and attract qualified organic traffic.
2. Conducting Keyword Research
The foundation of any successful SEO strategy is thorough keyword research. By identifying the most relevant and high-performing keywords in the sports medicine industry, you can tailor your content and optimize your website accordingly. Start by brainstorming relevant terms and phrases, and then use keyword research tools to uncover valuable insights into search volume, competition, and user intent.
3. Crafting Compelling Content
High-quality, informative content is the backbone of effective Sports Medicine SEO. By providing valuable insights and addressing common concerns, you position yourself as an authority in the field and foster trust among your audience. Create in-depth articles, blog posts, and guides that cover a wide range of sports medicine topics. These topics can include injury prevention, rehabilitation exercises, nutrition tips, and cutting-edge treatment options.
4. Optimizing On-Page SEO Elements
To maximize your website's visibility, it's crucial to optimize various on-page elements. Ensure that your page titles, meta descriptions, and headings contain relevant keywords while providing concise and compelling summaries of your content. Additionally, optimize your URLs, image alt tags, and internal linking structure to enhance both user experience and search engine crawlability.
5. Building High-Quality Backlinks from Sports Medicine Fields
Backlinks, or inbound links, are crucial for demonstrating your website's authority and relevance to search engines. Aim to acquire high-quality backlinks from reputable sources in the sports medicine field, such as medical journals, sports publications, and industry associations. Develop relationships with influencers and collaborate on guest blog posts or interviews to expand your reach and build a strong backlink profile.
6. Leveraging Local SEO
For sports medicine practitioners targeting a specific geographic area, local SEO plays a pivotal role. Optimize your Google My Business listing by providing accurate information, including your address, contact details, and business hours. Encourage satisfied patients to leave positive reviews, as these not only boost your local SEO but also establish trust and credibility.
7. Engaging with Social Media
In today's digital age, social media platforms provide an excellent opportunity to connect with your target audience and amplify your Sports Medicine SEO efforts. Maintain an active presence on popular platforms like Facebook, Instagram, and Twitter. Sharing engaging content, success stories, educational videos, and expert tips. Encourage interaction, respond to comments, and leverage the power of social sharing to expand your online reach.
8. Analyzing and Adapting SEO of Sports Medicine
Constantly monitor and analyze your website's performance using analytical tools like Google Analytics. Gain insights into your audience's behavior, popular search terms, and the effectiveness of your SEO strategies. Use this data to make informed decisions and adapt your approach accordingly.
By regularly reviewing your website's performance metrics, you can identify areas for improvement and capitalize on opportunities to enhance your Sports Medicine SEO. Pay close attention to key metrics such as organic traffic, bounce rate, time on page, and conversion rates. Look for patterns and trends to understand what content resonates with your audience and adjust your SEO efforts accordingly.
Experiment with different approaches, such as testing different meta tags, tweaking content formats, or refining your keyword targeting. Monitor the impact of these changes on your search engine rankings and user engagement metrics. A data-driven approach will help you refine your SEO strategy over time, ensuring that you stay ahead of the competition and continue to outrank them on Google.
Conclusion
In the dynamic world of sports medicine, it is essential to harness the power of Sports Medicine SEO to stand out and reach your target audience effectively. By following the strategies outlined in this guide, you can optimize your website, create valuable content, and establish your authority in the field. Remember to conduct thorough keyword research, craft compelling content, optimize on-page elements, build high-quality backlinks, leverage local SEO, engage with social media, and analyze and adapt your approach based on data-driven insights.
Embrace the power of Sports Medicine SEO to elevate your online presence. Attract a steady stream of qualified leads, and help athletes and sports enthusiasts achieve their peak performance and recovery goals.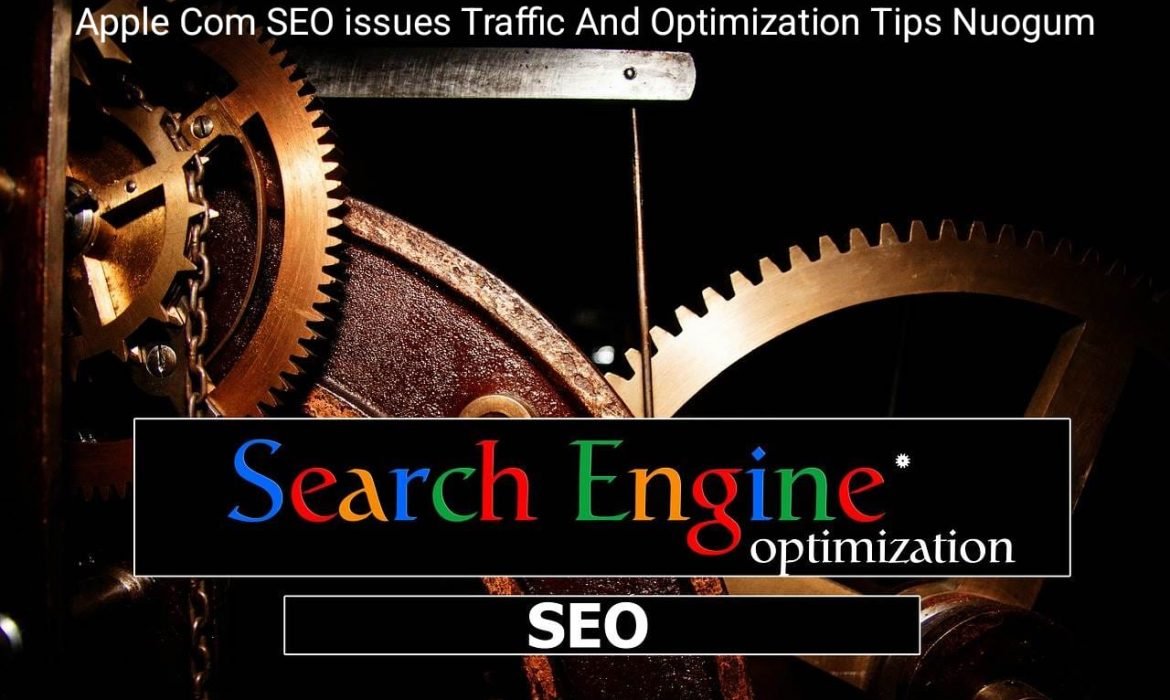 Apple Com SEO Issues Traffic And Optimization Tips Nuoogum
In this article, we will explore Apple Com SEO Issues Traffic And Optimization Tips Nuogum and offer tips on how the company can optimize its website for better search engine rankings and increased traffic.

Understanding Apple Com SEO Issues Traffic And Optimization Tips Nuogum
---
Apple is a company that needs no introduction. The tech giant has been around for over 40 years and has revolutionized the technology industry. A website even a website of this magnitude can face SEO challenges that can hurt its traffic and overall performance. Apple.com is also a large and complex website with many different sections, categories, and products. One of the biggest SEO issues that the website is currently facing is its lack of focus on targeted keywords. Apple.com is trying to rank for too many different keywords, which can dilute its authority and reduce its overall search engine rankings.
Another issue that Apple.com faces is its site structure and navigation. The website is not structured in a way that makes it easy for users to find what they are looking for. Furthermore, the lack of clear navigation can make it difficult for search engine crawlers to index the website's pages.
Most Common Traffic Issues on
Apple com
---
Google Algorithm Updates
Google's algorithm updates can significantly impact a website's traffic. Apple.com experienced a significant drop in traffic after the Google BERT update in 2019. The update affected how Google understands natural language processing, leading to a significant drop in Apple.com's search engine ranking.
Low Click-Through Rate
A website's click-through rate (CTR) is the number of clicks it receives divided by the number of impressions it gets. A low CTR can indicate a lack of relevance or poor user experience. Apple.com has a relatively low CTR compared to its competitors, which can be improved by optimizing its meta descriptions and title tags.
Apple Com SEO Issues Traffic And Optimization Tips Nuogum:
On-page SEO Solutions

:
---
1. Optimize for Targeted Keywords
To improve its on-page SEO, Apple.com should start by focusing on targeted keywords that are relevant to its products and services. The website should conduct thorough keyword research and create content that is optimized for these keywords. This will help the website to rank higher in search engine results pages (SERPs) and attract more targeted traffic.
2. Improve Site Structure and Navigation
Apple.com should also focus on improving its site structure and navigation. The website should be organized in a way that makes it easy for users to find what they are looking for, and the navigation should be clear and intuitive. This will not only improve the user experience but also make it easier for search engine crawlers to index the website's pages.
3. Optimize Meta Descriptions and Title Tags
Meta descriptions and title tags are important on-page SEO factors that can impact search engine rankings and click-through rates. Apple.com should optimize its meta descriptions and title tags to include targeted keywords and compelling descriptions that encourage users to click through to the website.
4. Improve Internal Linking
Internal linking is an important on-page SEO factor that can help to improve website authority and search engine rankings. Apple.com should improve its internal linking structure by linking relevant pages together and creating a clear hierarchy of pages on the website.
Apple Com SEO Issues Traffic And Optimization Tips Nuogum:
Off-page SEO Solutions
:
---
1. Build High-quality Backlinks
Backlinks are one of the most important off-page SEO factors that can impact search engine rankings and overall website authority. Apple.com should focus on building high-quality backlinks from relevant and authoritative websites in its industry.
2. Improve Social Signals
Social signals such as likes, shares, and comments can also impact search engine rankings and overall website authority. Apple.com should improve its social media presence and encourage users to engage with its content on social media platforms.
3. Leverage Local SEO
Local SEO is a crucial factor in improving website traffic for businesses that have a physical presence. For Apple.com, local SEO can help attract more local customers to its website and increase its online visibility. Local SEO is done by creating your Google Business Profile. In this section, we will discuss the importance of local SEO for Apple.com and analyze its current local SEO performance. We will also provide tips on how to improve local SEO for Apple.com. By leveraging local SEO tactics such as creating location-specific content and optimizing Google My Business listings, Apple.com can improve its local search rankings and attract more local customers to its website.
---
---
---
---
Apple Com SEO Issues Traffic And Optimization Tips Nuogum:
Technical SEO Solutions
:
---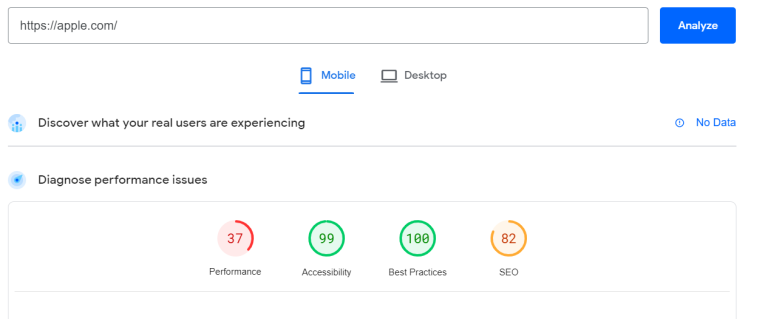 1. Poor Website Speed:
Website speed is a critical aspect of search engine optimization (SEO) as it can impact a website's user experience and search engine rankings. Slow-loading pages can lead to high bounce rates, which can negatively affect a website's ranking. If a website takes too long to load, users may leave the site before it finishes loading, causing a high bounce rate and indicating to search engines that the website may not be providing a good user experience.
In the case of Apple.com, the website's mobile website speed is only 37 out of 100, according to Google Page Speed Insights, while the desktop speed is 78 out of 100. These scores are quite low, indicating that the website may take a long time to load, which could be frustrating for users and negatively impact the site's search engine rankings.
To improve website speed, website owners can take a variety of actions, such as optimizing images and reducing the number of HTTP requests. Additionally, website owners can use website speed testing tools like Google PageSpeed Insights or GTmetrix to identify specific issues that are causing slow loading times and take appropriate action to resolve them.
1. Slow Page Loading Times: The Need for Speed
Slow Page Loading Times
One of the significant issues Apple Com faces is slow page loading times, which can deter users from accessing their website and decrease their search engine rankings. In today's fast-paced digital landscape, users expect websites to load quickly. To address this issue, Apple Com can implement the following optimization tips:
Optimize Image Sizes: Compressing images without compromising quality can significantly improve page loading times. Apple Com should ensure that all images on their website are properly optimized. One of the best image compressor is Blackbird.
Leverage Caching: Implementing browser caching techniques enables repeat visitors to load web pages faster. Apple Com can utilize caching plugins or server-level caching to boost website performance.
Minify CSS and JavaScript: By minimizing the size of CSS and JavaScript files, Apple Com can reduce the time it takes for web pages to render.
2. Lack of Mobile-Friendliness: Catering to the Mobile Audience
Lack of Mobile-Friendliness
In today's mobile-centric world, optimizing for mobile devices is crucial. Unfortunately, Apple Com faces challenges in providing a seamless mobile experience. To overcome this hurdle, Apple Com can implement the following optimization strategies:
Responsive Web Design: Adopting a responsive design ensures that Apple Com's website adapts to different screen sizes and devices, providing an optimal user experience.
Mobile Page Speed Optimization: Optimizing Apple Com's website for mobile page speed is essential. Minimizing redirects, leveraging browser caching, and optimizing images are crucial steps to enhance mobile performance.
Mobile-Friendly Content: Apple Com should focus on creating mobile-friendly content that is easy to read and navigate on smaller screens. Utilizing shorter paragraphs, concise headings, and bullet points can improve user engagement.
2. Duplicate Content:
Duplicate content refers to content that appears on more than one web page, either on the same website or across different websites. Duplicate content can harm a website's SEO efforts as it can confuse search engines and impact a website's search engine rankings. If search engines find duplicate content, they may not know which page to index, which can result in lower search engine rankings.
Apple.com has duplicate content issues in its product descriptions and metadata. This can harm the site's SEO efforts, as search engines may not know which page to rank for specific keywords or phrases. To resolve this issue, website owners should create unique product descriptions and metadata for each product. This will help ensure that search engines can easily index each page and provide a better user experience for visitors to the site.
3. Poor URL Structure:
 A website's URL structure is a critical ranking factor in SEO. A well-structured URL should be easy to read and contain relevant keywords. URLs that are too long, complex, or contain irrelevant information can negatively impact a website's search engine rankings.
Apple.com has poor URL structures, with long, complex URLs that contain irrelevant information. For example, the URL for the Apple Watch Series 6 product page is: https://www.apple.com/shop/buy-watch/apple-watch/44mm-gps-product-red-aluminum-product-red-sport-band. This URL contains a lot of irrelevant information that can be confusing for both users and search engines.
To improve URL structure, website owners should aim to create short, simple URLs that contain relevant keywords. This will help search engines understand what each page is about and improve the website's search engine rankings. Additionally, website owners can use URL structure best practices, such as separating words with hyphens and avoiding special characters, to make URLs more user-friendly and easier to read.
Conclusion
In conclusion, Apple.com faces a variety of SEO challenges, from technical issues to content optimization and link building. However, by implementing the optimization tips discussed in this article, Apple.com can improve its search engine rankings and attract more organic traffic to its website. It is crucial for Apple.com to prioritize user experience, technical SEO, and content optimization. This will help achieve long-term success in search engine rankings. By constantly monitoring and adapting its SEO strategy. This will help with Apple Com SEO Issues Traffic And Optimization Tips Nuogum and give an edge over your competitors. We hope that the tips provided in this article will help Apple.com address its SEO challenges and achieve its business objectives.