Introduction
In today's digital landscape, B2B digital marketing plays a pivotal role in driving business growth and establishing a strong online presence. With the ever-increasing competition, it has become essential for companies to leverage effective digital marketing strategies to reach their target audience and generate qualified leads. In this comprehensive guide, we will delve into the world of B2B digital marketing, exploring its various facets and providing actionable insights to help your business thrive in the online realm.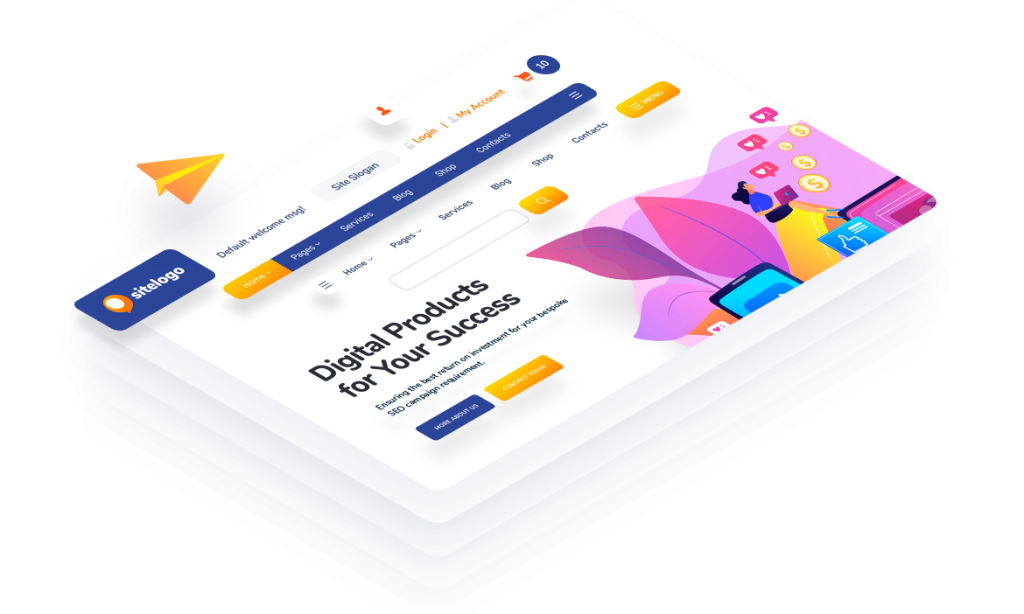 Understanding B2B Digital Marketing
Agencies
B2B digital marketing refers to the strategies and tactics employed by businesses to promote their products or services to other businesses. Unlike B2C (Business-to-Consumer) marketing like Full Stack Digital Marketing Agencies, focuses on establishing long-term relationships, nurturing leads, and driving conversions within a professional context. It involves utilizing various digital channels and techniques to engage with decision-makers, influencers, and key stakeholders within the target organizations.
The Importance of B2B Digital Marketing
In today's technology-driven world, B2B digital marketing offers numerous advantages for businesses seeking growth and expansion. Here are some key reasons why B2B digital marketing is crucial:
1. Increased Reach and Visibility
Digital marketing allows businesses to reach a wider audience through various online channels. With the right strategies in place, you can extend your brand's visibility and attract potential customers from across the globe. By optimizing your website and content for search engines which is called Search Engine Optimization(SEO), you can increase your organic reach and improve your chances of ranking higher in search engine results.
2. Targeted Marketing Approach
B2B digital marketing enables businesses to target specific industries, job titles, or geographical locations, ensuring that your marketing efforts are directed towards the right audience. By tailoring your messaging and content to resonate with the needs and pain points of your target market, you can establish credibility and build trust among potential customers.
3. Lead Generation and Nurturing
One of the primary objectives of B2B digital marketing is to generate high-quality leads and convert them into paying customers. Through various lead generation techniques such as content marketing, social media marketing(SMM), and email marketing, you can capture valuable information from potential customers and nurture them through the sales funnel. This helps in building relationships, establishing authority, and ultimately driving conversions.
4. Measurable Results and ROI
Unlike traditional marketing methods, digital marketing offers extensive tracking and analytics capabilities. With tools like Google Analytics and marketing automation platforms, you can measure the effectiveness of your campaigns, track key performance indicators (KPIs), and calculate your return on investment (ROI). This allows you to optimize your marketing efforts based on data-driven insights and make informed decisions to maximize your ROI.
B2B Digital Marketing Strategies
To achieve success in B2B digital marketing, it is essential to implement the right strategies tailored to your business goals and target audience. Here are some key strategies to consider:
1. Content Marketing
Content marketing forms the backbone of any successful B2B digital marketing strategy. By creating and distributing valuable, informative, and engaging content, you can attract your target audience, establish thought leadership, and drive organic traffic to your website. It is crucial to understand your audience's pain points and create content that provides solutions and addresses their needs. From blog articles and whitepapers to case studies and videos, diverse content formats can be used to engage your audience at different stages of the buyer's journey.
2. Search Engine Optimization (SEO)
SEO plays a vital role in improving your website's visibility and driving organic traffic. By optimizing your website and content for relevant keywords and implementing best practices, you can increase your chances of ranking higher in search engine results. SEO services involves on-page optimization, such as optimizing meta tags, headings, and URL structures, as well as off-page optimization, including link building and social media signals.
3. Social Media Marketing
Social media platforms offer valuable opportunities for B2B businesses to connect with their target audience, build brand awareness, and drive engagement. You should identify the right social media channels frequented by your target market. This can create compelling content, participate in relevant industry discussions, and leverage paid advertising to amplify your reach. LinkedIn, in particular, is a powerful platform for B2B networking and lead generation like PADIMR on Linkedin.
4. Email Marketing
Email marketing remains an effective strategy for nurturing leads and maintaining ongoing communication with your prospects. By segmenting your email lists. These can be based on buyer personas and by sending targeted, personalized content, you can deliver relevant messages that resonate with your audience. Automation tools can be utilized to streamline the email marketing process and send timely, triggered emails based on user behavior.
5. Influencer Marketing
Influencer marketing has gained significant traction in the B2B space, enabling businesses to leverage the credibility and reach of industry influencers to promote their products or services. By identifying key influencers in your industry and collaborating with them on content creation or thought leadership initiatives, you can tap into their existing audience and establish brand authority.
The Future of B2B Digital Marketing
Looking ahead, the future of B2B digital marketing holds immense potential. As technology continues to evolve, businesses need to stay ahead of the curve and embrace emerging trends and strategies to remain competitive. Here are some key areas to watch:
1. Voice Search Optimization
With the rise of voice assistants like Siri, Alexa, and Google Assistant, voice search is gaining prominence in the B2B space. Optimizing your content for voice search queries, focusing on long-tail keywords and natural language, can help your business capture voice-driven organic traffic and stay ahead of the competition.
2. Augmented Reality (AR) and Virtual Reality (VR)
AR and VR technologies are becoming more accessible, offering exciting possibilities for B2B digital marketing. Businesses can leverage AR/VR to provide immersive product demonstrations, virtual tours, and interactive experiences that help potential customers better understand their offerings.
3. Data-driven Decision Making
As data collection and analytics capabilities continue to evolve, businesses will increasingly rely on data-driven decision-making. By leveraging advanced analytics tools and AI algorithms, businesses can extract valuable insights from large datasets, enabling them to make informed marketing decisions and optimize their strategies for better results.
4. Hyper-Personalization
Hyper-personalization goes beyond basic personalization by delivering highly tailored content and experiences to individual buyers. By leveraging customer data, AI, and automation, businesses can create personalized marketing campaigns that address specific pain points, preferences, and behaviors of their target audience.
5. Influencer Partnerships
Influencer marketing will continue to be a powerful strategy in B2B digital marketing. Businesses can form strategic partnerships with industry influencers, leveraging their expertise. This can help reach to amplify brand visibility, build credibility, and attract new customers.
As the digital landscape evolves, businesses must stay agile and adapt to new technologies and trends. By staying informed and embracing innovative strategies, B2B companies can position themselves for success in the ever-changing world of digital marketing.
The Role of Artificial Intelligence in B2B Marketing
Artificial Intelligence (AI) is revolutionizing the field of B2B digital marketing, providing businesses with advanced tools and capabilities to optimize their marketing efforts. AI-powered technologies, such as machine learning algorithms, Chat gpt and predictive analytics, offer valuable insights, content and automation opportunities that can drive significant improvements in marketing performance.


One area where AI is making a substantial impact is lead generation and qualification. By analyzing vast amounts of data, AI algorithms can identify patterns and trends to identify potential high-quality leads. This enables businesses to focus their efforts on the most promising prospects, increasing efficiency and conversion rates.
AI-powered chatbots are also transforming the way businesses engage with their audience. These intelligent virtual assistants can provide instant responses to inquiries, offer personalized recommendations, and even assist with completing transactions. Chatbots not only enhance customer experience but also free up human resources to focus on more complex tasks.
Another aspect of B2B digital marketing where AI excels is personalization. By leveraging AI algorithms, businesses can analyze customer behavior, preferences, and past interactions to deliver highly targeted and relevant content. Personalized marketing campaigns have been shown to significantly increase customer engagement and conversion rates.
Additionally, AI can play a crucial role in optimizing advertising campaigns. AI algorithms can analyze ad performance data in real-time, making adjustments to targeting, bidding strategies, and creative elements to maximize campaign effectiveness and return on ad spend.
As AI continues to advance, it is expected to have an even more significant impact on B2B digital marketing. From predictive customer analytics to automated content generation, AI is reshaping the way businesses reach and engage with their B2B audience.


Conclusion
B2B digital marketing is a dynamic and ever-evolving field that offers immense opportunities for businesses to grow and succeed in the digital realm. By implementing effective strategies such as content marketing, SEO, social media marketing, email marketing, and influencer marketing, you can elevate your brand's visibility, generate qualified leads, and drive conversions. Remember to continually monitor and optimize your campaigns based on data-driven insights to stay ahead of the competition. Embrace the power of B2B digital marketing and unlock new avenues of growth for your business.